Description
Quick shipment item
This product can be shipped quickly.
Production period
Normally orders will be shipped within 1-2 days.
Expected shipping time
EMS delivery takes 7~10 days but it depends on each countries.
If you have an inquiry, please leave a message on our Q&A board. we will answer you ASAP.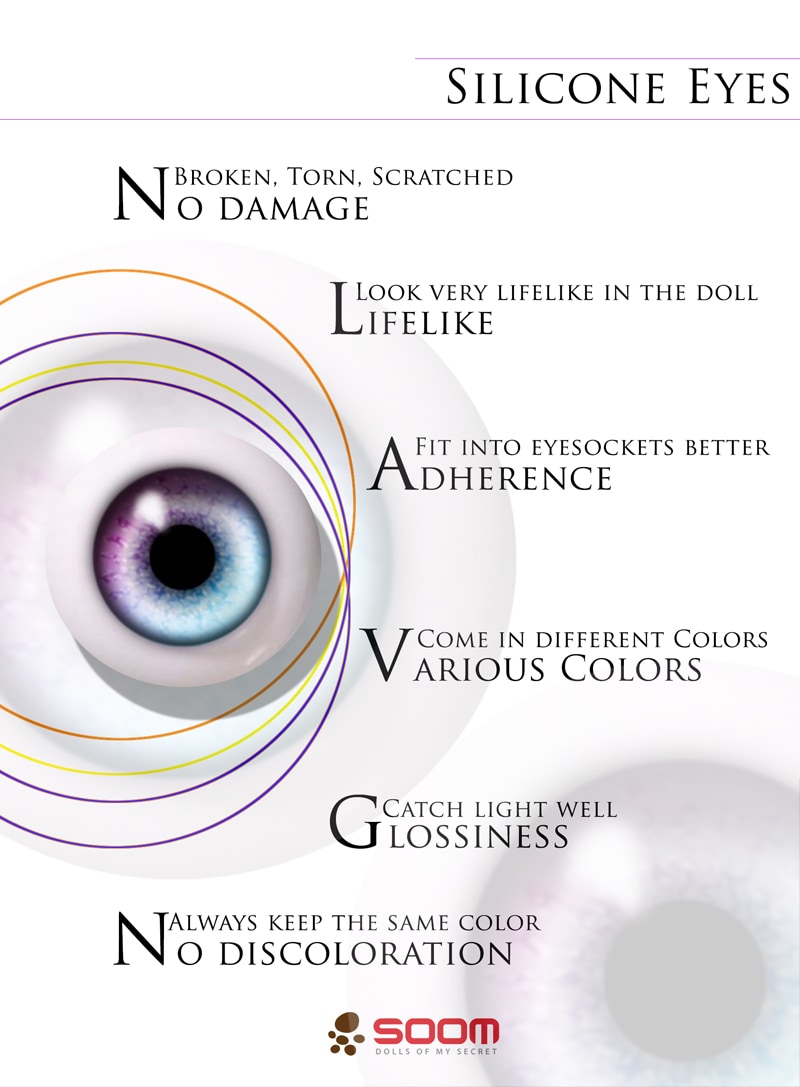 Soom Silicone Eyes are
- The eyes have high elasticity and adheres well to the doll's eye area.
- No matter which direction you look at it, the gaze follows well.
- It is not easily broken and is not scratched easily.
- 100% hand-made in Korea with a made to order.
Including
- 1 pair of eyes (2 pcs)
- Exclusive case and eye fixation clay
Eye size
Single Dome : 12mm / 14mm / 16mm / 18mm
Double Dome : 16mm / 18mm / 20mm
* Single Dome : It is an eye type that stands out with a clean dome line. It is designed that no matter which way you look at the doll, the eyes will stare at you.
* Double Dome : Double dome is designed that a subtle curvature with the form of a double dome on the surface of the crystalline lens(transparent lens), and designed to mysteriously gather light around the pupil to make it look more three-dimensional.
Precautions when purchasing
- Production begins after your payment is confirmed for your order, and production takes about 30~45 days.
- Make to order products cannot be canceled as production starts after 24 hours from the date of payment.
- Product photos may look different from actual colors depending on your screen settings.
- There are individual differences due to the handmade nature, and there may be slight differences between both eyes.
Handling Precautions
- When not using the eyes, put them in the case and keep them safely.
- If dust or oil stained on the eyeball, gently wipe it with a wet tissue or a cotton swab dipped in clean water.
- When fixing the silicone eyes, we recommend you to use white clay since dark colored clay make the eyes be discolored.
- Prolonged exposure to sunlight and ultraviolet rays or may cause gradual yellowing over time.
- Be careful not to contact with sharp objects (knife, glass shards, needle, etc.).
A/S Warranty notice
- Please check the product immediately when you received, and if you find any defectives, please apply for AS through the Q&A board within 7 days from received date.
- Please note that exchanges, refunds, or free AS warranty are not available if you request after 7 days from the delivered date.
Designed and made by SOOM
© SOOM Korea Inc. All rights reserved.
Additional information
| | |
| --- | --- |
| Weight | 50 g |
| Dimensions | 7 × 6 × 4 cm |
| Eye Size | 18mm Double Dome, 18mm Double Dome, 20mm Double Dome, 20mm Double Dome, 12mm, 12mm, 14mm, 14mm, 16mm, 16mm, 18mm, 18mm |